Capoeira


October 24 (Thursday) at 8:00 pm
CANCELLED
Class length
1 hour 30 minutes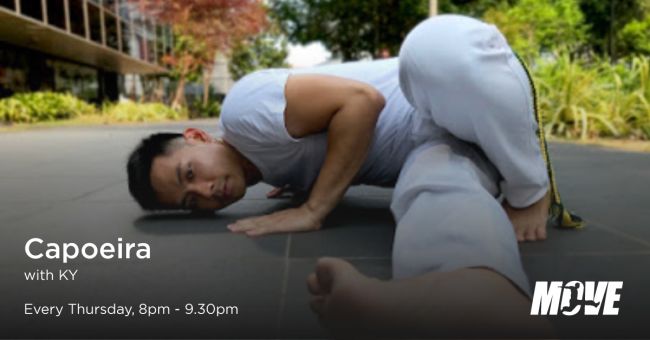 Capoeira - widely known as a martial art disguised as a dance, was first practiced by African slaves in Brazil. The art form which constitutes a wide range of bodily techniques and intellectual skills is increasing in popularity amongst MMA fighters, martial art practitioners, movement enthusiasts, dancers and the fitness community. Capoeira also played a huge role to the emergence of movement culture all around the world.
--------
--------
About KY
KY started his journey in the movement and martial arts world in 2003, as a Taekwondo practitioner. He attained the 1st dan black belt in the year 2008. He later found Capoeira in 2010, and had focused his training in the art ever since. There are various schools of thought in the diverse art of Capoeira. KY believes that the art should be embraced holistically, and the seemingly contradictory philosophies - dance vs martial art, trickery vs objectivity, playfulness vs aggression, can all be embodied within the body, mind and spirit of the Capoeirista.
KY continues to spread the wisdom and teachings of Capoeira under the pupillage of Mestre Xuxo, founder of the Pelo Sinal da Santa Cruz school of Capoeira.
Add to calendar
10/24/2019 20:00
10/24/2019 21:30
Capoeira - MOVE Academy Singapore - KY
Pico
<div><img src="https://res.cloudinary.com/punchpass/image/upload/v1569715268/client_emails/jncb52xg4gppetmn2vr2.jpg" class="fr-fil fr-dib" width="650" height="340"></div><div><br></div><div>Capoeira - widely known as a martial art disguised as a dance, was first practiced by African slaves in Brazil. The art form which constitutes a wide range of bodily techniques and intellectual skills is increasing in popularity amongst MMA fighters, martial art practitioners, movement enthusiasts, dancers and the fitness community. Capoeira also played a huge role to the emergence of movement culture all around the world.</div><div><br></div><div>--------</div><div><br></div><div><strong>Venue:</strong> <a href="https://www.instagram.com/p/BpN-R_nHyV9/" rel="noopener noreferrer" target="_blank">MOVE Academy Singapore at Pico Creative Centre, 20 Kallang Ave, #11-00, Singapore 339411</a><br><strong>Precise location:</strong> <a href="https://w3w.co/gazed.smoke.pest" rel="noopener noreferrer" target="_blank">/// gazed.smoke.pest</a></div><div><strong>How to get there:</strong> <a href="https://www.instagram.com/p/BpN-R_nHyV9/" rel="noopener noreferrer" target="_blank">https://www.instagram.com/p/BpN-R_nHyV9/</a><br><strong>Nearest MRT:</strong> 5 mins walk from Lavender MRT<br><strong>Shower Facilities:</strong> Yes</div><div><br></div><div>--------</div><div><br></div><div><strong>About KY</strong></div><div>KY started his journey in the movement and martial arts world in 2003, as a Taekwondo practitioner. He attained the 1st dan black belt in the year 2008. He later found Capoeira in 2010, and had focused his training in the art ever since. There are various schools of thought in the diverse art of Capoeira. KY believes that the art should be embraced holistically, and the seemingly contradictory philosophies - dance vs martial art, trickery vs objectivity, playfulness vs aggression, can all be embodied within the body, mind and spirit of the Capoeirista.<br>KY continues to spread the wisdom and teachings of Capoeira under the pupillage of Mestre Xuxo, founder of the Pelo Sinal da Santa Cruz school of Capoeira.</div>
MOVE Academy Singapore
false
MM/DD/YYYY
1440